interior design, so we present to you some creative bedroom shelving ideas and a collection of tips and designs for your bedroom shelving ideas
. It is important to properly plan its interior, every detail affects the overall design of the room.
bedroom shelving ideas, shelves beside the bed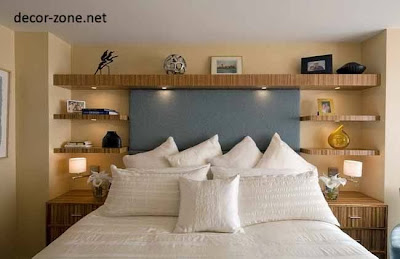 Shelving ideas in the bedroom that can hold photographs, books, figurines, and other items. you can install them beside the bed. Generally, such a design decision – the idea is very successful in the following cases:
if you are very fond of constantly changing the design of the room
if you like small items, such as vases or statues, which is inconvenient to arrange on the shelving beside the bed
if you like to read before bed, you can conveniently place your favorite books;
if you want to revive and update the decor without investing lots of money.
So, we will offer you some basic ideas to organize shelves beside the bed, to help the bedroom shelving to look very attractive, moreover, you will have another place to store useful things.
Simple bedroom shelving ideas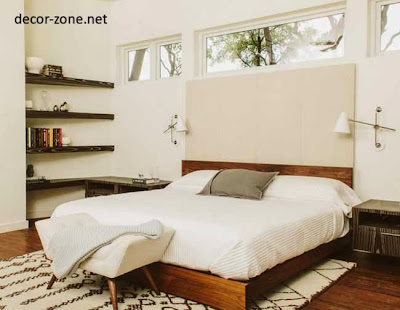 So, the easiest bedroom shelving idea is to choose simple and white shelves with a thickness ranging from 15 to 40 millimeters. A distinctive feature of these shelves is their versatility – they can easily fit into any decor. The only exception is a four-poster bed, as in this case, the simple bedroom shelving ideas are irrelevant.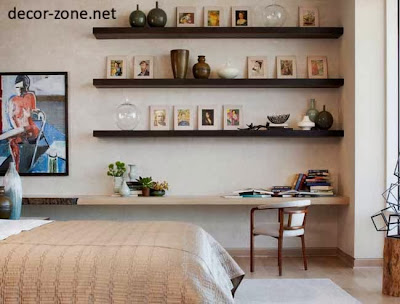 But colored shelves can be the perfect solution for multiple tasks – they can repeat the shade of beds or cabinets, and they can be a real highlight of your bedroom.
the suitable height for bedroom shelves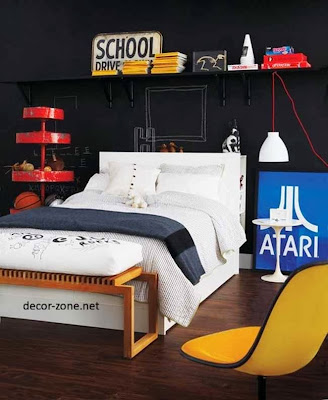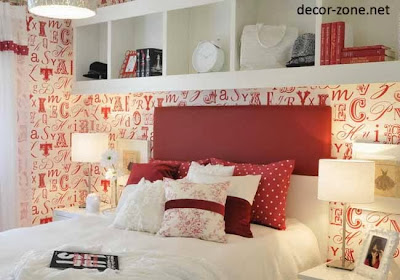 in any bedroom shelving ideas, in order to determine the optimum height for a shelf, you need to sit down a vertically highest member of the family, and from his head to measure about 20-30 cm Then you can easily reach the shelves to remove something from it, and at the same time, it will not interfere with anyone.
bed headboard and bedroom shelving ideas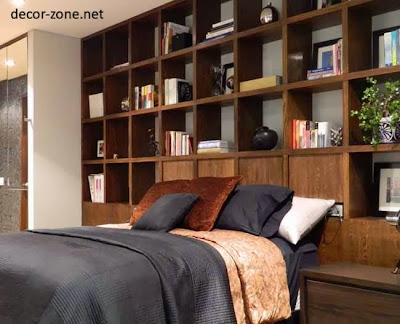 If your bed headboard rests tightly against the wall, there is initially a variety of bedroom shelving ideas and designs, for example, columns, you can use them to create a niche that will also serve as shelves. In this case, transparent glass shelves will look very attractive on which to place the graceful figurines, vases, boxes, and other aesthetically pleasing things.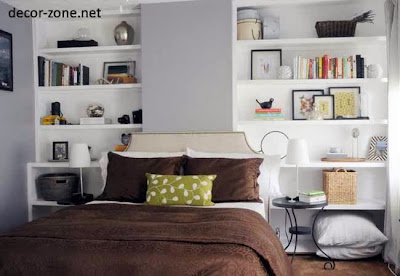 If you are sure that you need to put a lot of things around the bed, for bedroom shelving try to find furniture modules, which have a huge amount of shelf space. You can also order small lockers that will fit very well into the niche behind the headboard and will on the one hand, the suitable bedroom shelving ideas
surround the headboard for bedroom shelving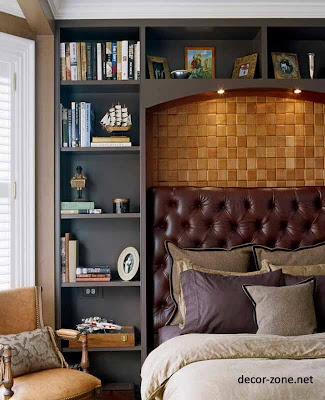 one of the bedroom shelving ideas is that you can try to find a bed with a surround headboard, which will replace the shelf. As a rule, on the sides of these beds, there are small compartments that serve as nightstands, and the upper part is used as a shelf. This bed looks very organic and in this case, is very functional.
bedroom shelving ideas – shelves in the bedroom, a very good solution, they lend elegance and refinement, as well as perform well in their respective roles. However, we must remember that these should not be overloaded with crowded shelves, they will look like a dump and lose their aesthetic appearance.